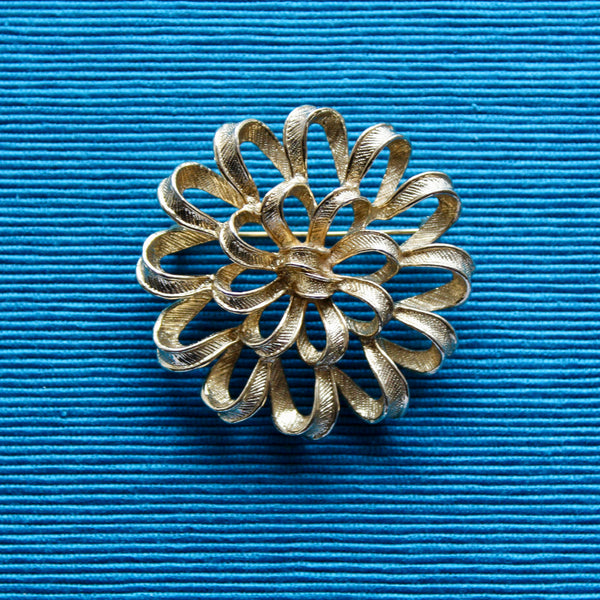 1960s Sarah Coventry Ribbon Corsage Brooch
This lovely Sarah Coventry Ribbon Corsage Brooch from the 1960s is a classic motif enlarged for a modern and impactful look.
Imagine this brooch on a classic coat or mix it up and wear it on the waist of your favourite trousers. The ribbon motif make it perfect for jumpers and suits.
Larger than life this brooch is not for the fainthearted. Just look at it compared to the smaller pearl brooch by the same company.
It is a classic piece that makes a lovely present especially for yourself.
Mint condition.
5.5 cm diameter.
Gold plated. Signed.
Summer or winter this brooch is a knock out.
Even heavy brooches can be worn on modern garments using a supportive brooch sponge. 
Your brooch will be gift wrapped in our seasonal packaging and will include a sponge. 
Product Information:
Founded in 1949 by Charles Stuart, who named his costume jewellery company after his granddaughter, Sarah Coventry did not follow the Coro, Trifari, or Miriam Haskell practice of producing the work of a strong in-house designer. Instead, Stuart purchased designs from freelancers, then hired firms such as DeLizza and Elster, whose house brand was Juliana, to create its chokers, necklaces, brooches, earrings, and bracelets.
Also unlike its competitors, Sarah Coventry did not focus on getting prime counter space in department stores, or selling its wares to Hollywood movie stars in order to move its inventory. Stuart's approach was more grass-roots, using house parties (á la Tupperware and Avon) to get people talking about his affordable jewellery. He also gave his costume jewellery away to contestants on game shows and at beauty pageants. The word of mouth that resulted from this marketing strategy made Sarah Coventry one of the most popular jewellery brands of the mid-20th century. 
Today, their pieces from the 1960s and '70s are especially prized by collectors.
Thank you to Wendy Hewson for the bio details.
Your brooch will be gift wrapped in our seasonal packaging.