Hello!
Yes, there is an Audra and it is me.
I have been collecting & wearing brooches since I was a teenager in the 1980s.
I sell my vintage brooches in person at Canopy Market, London.
My brooches have been featured in British Vogue, Homes & Antiques, as well as Perfect Magazine and other international publications.
Audra is a font of information and has sourced a gorgeous vintage brooch for me to suit an occasion. The quality of service is impeccable - speedy postage, beautiful packaging - I always feel like I've gotten a present in the post!
SERENA

If you are looking for a unique jewellery piece, you have come to the right place. Stunning pieces and fantastic customer service. A very happy customer who keeps coming back. Always find a treasure and a memorable gift for others.
JOANNA

Beautiful brooch, quick delivery, excellent service.
Above and beyond expectation.
I highly recommend Audra's Brooches.
SOPHIE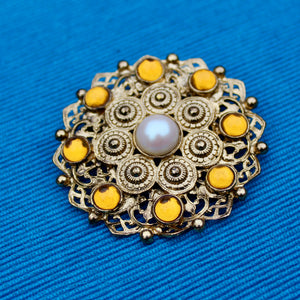 AS SEEN ON & IN
These are the statement brooches featured by stylists and editors who made them their own on the 'gram, the red carpet and the glossy pages of fashion bibles.
Shop the famous ones
Canopy Market
West Handyside Canopy, 2 Granary Square, King's Cross, London N1C 4BH
Tuesday 12-7 / Wednesday 12-7 / Thursday 12-9 / Friday 12-8 / Saturday and Sunday 11-6 Closed Mondays except Monday 18th December 12-7