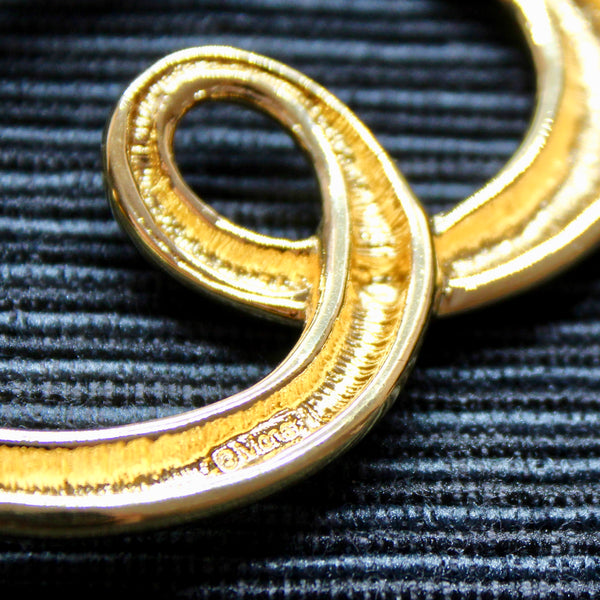 A lovely classic twist signed Monet. The open design makes it a wonderful choice for scarves or jumpers as the fabric will be seen through the middle. It is also a wonderful statement piece for coats and suits as the smooth shape makes it weather and commuting proof.
Previously known as Monocraft, Monet began as a business offering monograms for handbags and luggage. Its clean and impactful designs appealed to a postwar clientele. From the late 1940s it began to design and manufacturer iconic brooches and jewellery.
In the 1980s Monet designed pieces and collections for Yves St Laurent.
It is highly collectible as its quality and workship is second to none.
This brooch is 22ct triple gold plated. The braided tendrils provide a textured appearance and bounce the light effectively. It is a classic style that is reimagined in an almost fabric or tassel feel. 
Thanks to triple-plating, it's not unusual for Monet pieces to last for decades without showing signs of wear on the finish.
Excellent condition.
Signed Monet.
6 x 4 cm.
This brooch is in excellent condition. Gold plated.
Even heavy brooches can be worn on modern garments using a supportive brooch sponge. FIND OUT HOW
Your brooch will be gift wrapped in our seasonal packaging and will include a sponge.